Before becoming the United States' first information technology czar on May 6, Dr David J Brailer was senior fellow at the Health Technology Center in San Francisco, and spent 10 years as CEO and chairman of CareScience, Inc. He received his medical degree from the University of Pennsylvania and a doctorate in economics from the Wharton School. This July, Dr Brailer released a strategic plan with four major goals for his office: placing electronic health records in physicians' hands, developing a national interconnectivity network, boosting consumer access to personal health information, and improving surveillance and monitoring related to population health improvement. This month, BMJ spoke to Dr Brailer about the state of health information technology in this country and the future.
Could you give a progress report on your efforts?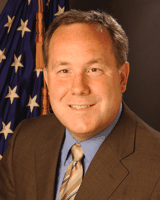 David Brailer, MD, PhD
We're now identifying the key priorities that are the precursors to many of the other steps, and... setting up a variety of federal teams and even private sector initiatives to move forward key elements of the plan. There's a health care technology leadership panel of Fortune 50 manufacturing, transportation, and financial services CEOs coming together to make commentary on the macroeconomic conditions with health information technology adoption. There is an internal budget process that's being worked through to determine whether or not a proposal will be made to Congress for investment in this area. There are efforts under way to develop criteria for product certification, there's an RFI [Request for Information] coming out for national health information networks.... We're ahead of schedule.
What do you think health care IT will look like 10 years from now?
We expect to have an information tool in the hands of every physician that has access to their patients' data, access to knowledge and clinical rules, guidelines, etc... and communications tools with other clinicians. We expect to have a network that securely and in a patient-controlled manner connects all those electronic health records... so that if a physician is seeing a patient all that patient's information that the patient wants the doctor to see is made available to them in real time. Patients don't have to fill out the same forms over and over again. Patients will have access to portals or tools that will allow them to see their own data, participate in decision making, and communicate with their doctors, and we'll be able to collect the data we need for quality monitoring, for clinical trials, for public health or bioterror surveillance directly out of the network.
What are your views of the use of email in clinical care?
I think it's essential. Whether we support it from a policy or a financial perspective or not, patients are going to demand it and physicians are going to have to do it, so the question is are we going to develop some of the oversight mechanisms and safeguards and the financial offsets so that as it happens it's done in a positive way and not just another thing that harms the doctor.
I think the legal infrastructure we have from HIPAA is quite adequate to be able to put in the safeguards that are needed to protect that information.
Does the government have a role in encouraging the use of email in medical practice?
CMS [Centers for Medicare and Medicaid Services] does not ostensibly support email. On the other hand, the first CPT code was put into use on July 1 that actually legitimized online consultation, so I think it's becoming a fact of life. We're exploring what further could and should be done to support this.
Where is this country doing a good job in using health care IT and where has it been lagging?
We're clearly using information technology relatively well on the financial and administrative side. Very few practices don't have a practice management system that handles the billing, AR, payroll, scheduling, at least at the operational level and perhaps at the clinical level.... Certainly, hospitals are using it for very similar administrative functions.
There's not a laboratory that can be in business today without information technology ... many lab companies are becoming information companies because of that. Same thing with ... the whole pharmacy system, particularly with the e-prescribing rules that have come out and will be coming out through the Medicare Modernization Act.
It's the core clinical office of transactions, of note taking, of record keeping, of data access that still is languishing, and no surprise-they're the most complicated in terms of technology, culture, and workflow, and I think they're obviously the next big area.
The area that I have great hope for is the research component. And I think some of the work that's being done at NIH in the cancer grid [cancer Biomedical Informatics Grid, or caBIG] and in NECTAR [National Electronic Clinical Trials and Research Network] and other related projects are incredibly promising and are really quite visionary in the research world.... [They] are some of the key ingredients in making research more accessible in realtime practice and being able to bring research more directly to the community level for population health improvement.
What are the roles of managed care, health plans, and insurance companies in promoting health IT?
They have a necessary role in supporting the financing of health information technology adoption ... they're at risk and they have the bottom-line benefit of efficiency and quality improvements.... Right now we have too many different theories of what data should be collected for measuring quality and performance and because of that we have too many unrelated or uncorrelated data collection efforts. The plans can play, and are playing, a significant role in streamlining that down to one set of quality measures and therefore one set of data that's collected.
When did you stop working as a clinician, and do you miss it?
I saw my last patient in 2002, when my travel schedule came to the point where I was unable to be systematically in one place at any given point in time.... I worked in immune deficiency and I think it's a very important area of treatment, a very important area of discovery, an area, by the way, where the access to information and the patient control over it are probably paramount in the industry.
I do miss it. In fact, I would like very much to have a very low travel schedule so I could return to clinical practice, but I don't see that in the cards for the next couple of years, unfortunately.
Do you think you will stay on in office if President Bush is not reelected?
Regardless of who gets elected, health information technology is here to stay.... Whether or not I stay is a separate question.... If this president or another one doesn't require my services anymore I would be happy to go back to San Francisco and continue my life. On the other hand if there's a contribution I can make under either administration, I want to see this through and make it happen. So that's a question for the president, not for me, and we'll see how it plays out.... The important thing is that the agenda gets maintained and grows over time. I think it's irreversible and irresistible at this point, and I think you're seeing that in both campaigns.
BMJ 2004;329:E328-E329 (16 October), doi:10.1136/bmj.329.7471.E328